BLACKHAWKS SELECT EIGHT PLAYERS ON SATURDAY AT 2017 NHL DRAFT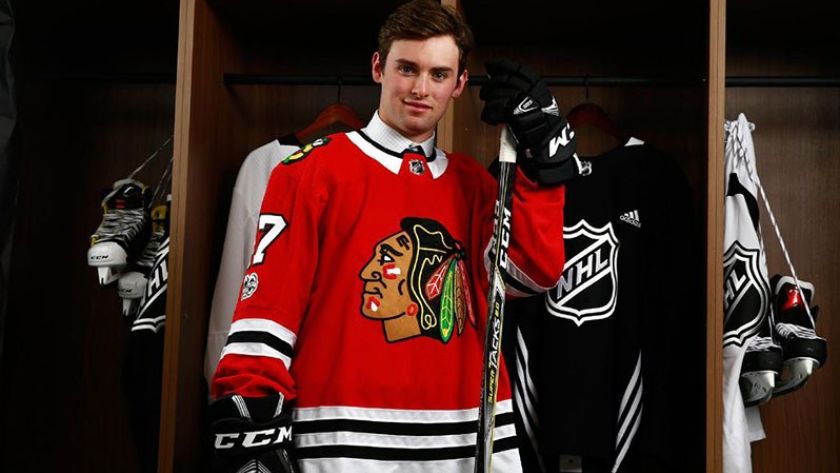 Chicago, Ill. - The Chicago Blackhawks completed the 2017 NHL Draft on Saturday, the first ever held in the city of Chicago. The two-day NHL Draft and Fan Fest, including the League's Centennial Fan Arena attracted a record weekend crowd of 47,514 fans.
Chicago selected eight players on Saturday; defenseman Ian Mitchell (57th overall), forward Andrei Altybarmakyan (70th overall), center Evan Barratt (90th overall), forward Tim Söderlund (112th overall), defenseman Roope Laavainen (119th overall), forward Parker Foo (144th overall), defenseman Jakub Galvas (150th overall) and defenseman Josh Ess (215th overall).
Blackhawks Draft Pick Bios:
Mitchell, 18, paced the Alberta Junior Hockey League's Spruce Grove Saints defensemen with 29 assists and 37 points during the 2016-17 season. He also added one goal and three helpers in 10 postseason tilts. In 109 career games with the Saints, he has totaled 64 points (14G, 50A). The Saint Albert, Alberta, native represented his country at the 2017 U-18 World Championship, notching two helpers in five games. He is committed to attend the University of Denver.
Altybarmakyan, 18, notched his MHL career high in goals (20), assists (25) and points (45) in 31 games with Serebryanye LVY St. Petersburg during the 2016-17 season. He also skated with Neva St. Petersburg of the VHL last year, recording nine points (5G, 4A) in 27 games. Altybarmakyan also played in 11 playoff games with Neva St. Petersburgh. Over three seasons with LVY St. Petersburg, he has 28 goals and 47 assists in 75 games.
Barratt, 18, finished third on the USNTDP U-18 club with 56 points (18G, 38A) in 63 games; he also picked up nine goals and 15 helpers in 26 United States Hockey League contests with the USNTDP. The Bristol, Pennsylvania, native helped Team USA to a gold medal at the 2017 U-18 World Championship, registering one goal and five assists in seven games. He is committed to attend Penn State University.
Söderlund, 19, recorded three goals and four assists in 39 games with Skelleftea AIK of the Swedish Hockey League last season. The Skelleftea, Sweden, native tallied a goal and two assists in seven games to help Sweden earn a silver medal at the 2016 U-18 World Championship.
Laavainen, 18, tallied five goals and 16 assists in 48 games with Jokerit U-20 during the 2016-17 campaign. The Helsinki, Finland, native notched 48 points (16G, 32A) in 72 games across two seasons (2014-16) with Jokerit U-18.
Foo, 18, collected 66 points (34G, 32A) in 60 regular-season games with the Brooks Bandits of the Alberta Junior Hockey League. The Edmonton, Alberta, native ranked second on the Bandits in goal scoring (34) and fourth overall in the AJHL. He added 20 points (10G, 10A) in 13 AJHL playoff games, which ranked second on the Bandits and fourth in the league. His 10 goals in the postseason were second-best in the AJHL. Foo helped the Bandits capture the 2017 Western Canada Cup after notching nine points (4G, 5A) in five games. He is committed to attend Union College.
Galvas, 18, registered a goal and five assists in his first season with HC Olomouc of the Czech Extraliga. The Ostrava, Czech Republic, native picked up an assist in two games for his country at the 2017 U-18 World Championship.
Ess, 18, picked up one assist in two games with the Cedar Rapids RoughRiders of the United States Hockey League. The Burnsville, Minnesota, native recorded 23 goals and 51 assists in 72 career games (2014-17) at Lakeville South High. He is committed to attend the University of Wisconsin.
In addition, the Blackhawks acquired the 112th pick on Saturday from the Vancouver Canucks in exchange for the 135th and 181st selections.
Season Tickets for 2017-18 on Sale Now: Don't miss a moment of the action by reserving your seats for the IceHogs 19th season of professional hockey and 11th as the top AHL affiliate of the Chicago Blackhawks. Opening night is Oct. 14 and ticket packages begin as low as $105 for a seven-game mini pack. Please contact us at (815) 847-6399 or visit icehogs.com to claim your spots for this upcoming season.