BLACKHAWKS FINISH TOURNAMENT ON A HIGH NOTE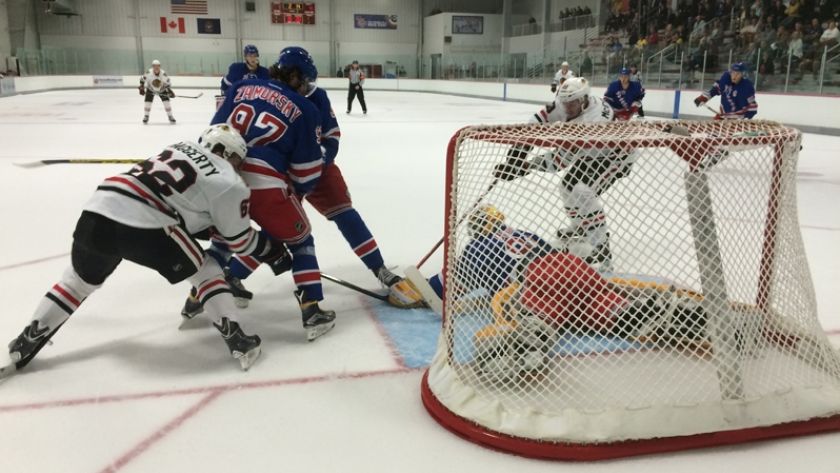 Blackhawks prospects take seventh place at the NHL Prospect Tournament.

Traverse City, Mich. – It took a period to get the offense charged, but once they got going the Chicago Blackhawks rookie team didn't look back en route to a 5-2 victory over the New York Rangers in Tuesday's Rookie Tournament finale.

After falling behind 1-0 in the first period, Chicago shined in the second period and tallied four straight goals.

It didn't take long for the Blackhawks offense to come alive once the puck dropped for the second period. Vince Hinostroza carried the puck below the goal line before zipping a pass for Hayden McCool on the doorstep and the easy tap in to tie the game at 1-1.

The Blackhawks took the 2-1 lead at 4:48 when Maxim Lazarev redirected a Dillon Fournier shot from the point. Then, just a minute and nine seconds later it was the line of McCool, Hinostroza and Ryan Haggerty that stayed hot. With the Blackhawks attacking in the Rangers zone, McCool collected his second goal of the game at 5:57 and again it was Hinostroza with the assist. Hinostroza led all Blackhawks prospects in the tournament with five points total (1g-4a).

Fournier capped off the strong second period for the Blackhawks as he scored his first of the tournament at 12:38. Just before getting into a scuffle, Brett McKenzie sent a pass for Fournier to rifle to the back of the net. Immediately following the marker, McKenzie got tied up with New York's Jayden Hart and both would be issued fighting majors.

New York tried to mount a late charge in the third period as Adam Tambellini scored on the power play with 2:01 remaining. But Haggerty sealed the 5-2 victory when he found an empty with 27 seconds left. With the tally, Haggerty recorded a goal in all four games to pace the Blackhawks.

Goaltender Austin Lotz turned in a solid performance between the pipes for the Blackhawks, stopping 35 of the 37 shots he faced.

The Blackhawks prospects finished the tournament with a 1-3-0-0 record to finish in 7th place.