BLACKHAWKS DROP GAME 2 IN TRAVERSE CITY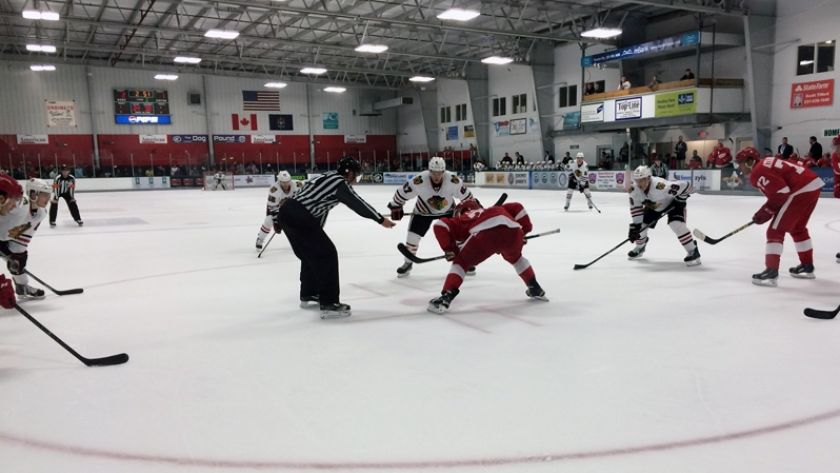 Traverse City, Mich. – In their second game of the 2015 Rookie Tournament, the Chicago Blackhawks prospects ran into some hot goaltending from Detroit's Jake Paterson, ultimately dropping a 3-2 contest on Saturday in Traverse City, Michigan.

Paterson, coming off a 1-0 shutout against the Carolina Hurricanes the previous night, was tested right away by Chicago but was up to the early task. After Paterson and the Red Wings fended off some early chances by the Blackhawks squad, they jumped out to an early two goal advantage. Anthony Mantha and Tomas Nosek did the scoring with both goals coming before the five minute mark of the first period and in a span of 36 seconds.

Forward Ryan Haggerty had a chance to get the Blackhawks on the board in the second period but again Paterson shut the door. The 22 year-old was sprung into the Red Wings zone all alone on a breakaway but Detroit's netminder held strong to keep the visitors off the scoreboard.

Finally the Blackhawks were able to crack Paterson in the third, ending his shutout streak at 92:12 to start the tournament. Defenseman Tyler Hore jumped up in the play from the blueline and buried a shot at 12:13 of the final frame to bring Chicago within one.

Just over six minutes later, Mantha regained Detroit's two goal advantage when he potted his second tally of the game.

Chicago wasn't going down easy, however. Already on a power play for a Detroit delay of game infraction, head coach Ted Dent went with a sixth attacker. Defensemen Nolan Valleau and Erik Gustafsson worked the puck around for Haggerty to fire in his second goal of the tournament and cut the lead in half with 11 seconds remaining.

That was all Chicago could manage though as they dropped the game 3-2. The Blackhawks are back in action on Monday, Sept. 14 as they faceoff against the Carolina Hurricanes at 6:30 p.m. (ET).