BLACKHAWKS COME UP SHORT IN SHOOTOUT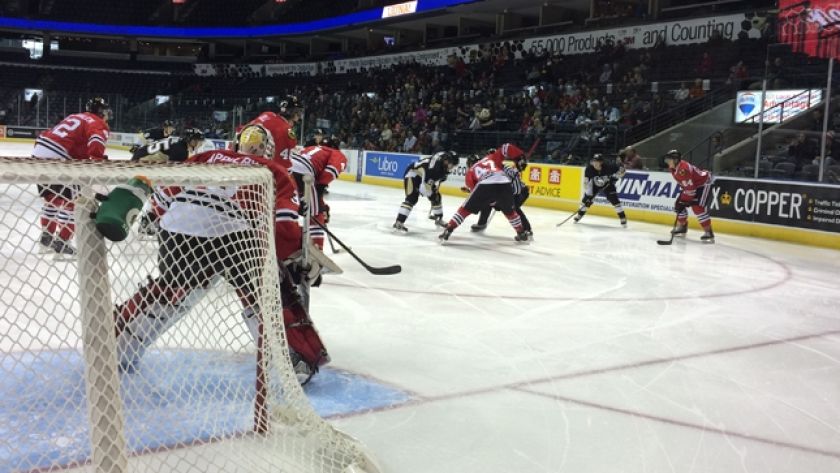 London, Ontario – The Chicago Blackhawks rallied late in their second game of the 2014 Rookie Tournament, but fell short of the Pittsburgh Penguins by a score of 5-4 in a shootout.

The Blackhawks rookie squad got a taste of the new American Hockey League overtime format after Matt Carey scored with 1.5 seconds remaining in the contest to tie the game and force an extra session.

The tournament followed the AHL's new overtime rules which has an extra period that is now seven minutes in length, with the first three featuring four-on-four hockey and then three-on-three for the final four. After both teams were unable to find the back of the net in the extra frame, Pittsburgh tallied twice in the shootout while Alex Broadhurst was the only Blackhawks skater to convert on his attempt.

The Blackhawks comeback started in the second period where the team trailed 4-1 late in the frame. Dennis Rasmussen and Phillip Danault scored late in the second stanza to bring the Blackhawks within reach, setting up Carey's game-tying goal in the final seconds of the game. A total of six goals were scored in the second period, including five in a span of just over three minutes.


Box Score
1
2
3
OT
TOTALS
Chicago Blackhawks
0
3
1
0
4
Pittsburgh Penguins
1
3
0
0
5
Game 2 lineup vs. Pittsburgh
Alex Broadhurst - Matt Carey - Brett Welychka
Garret Ross - Dennis Rasmussen - Ryan Hartman
Jaime Wise - Cory Thorson - Cody Caron
Ryan Van Stralen - Phillip Danault - Chadd Bauman

Viktor Svedberg - Stephen Johns
Dillon Fournier - Trevor van Riemsdyk
Paul Windlehurst - Justin Holl

Ken Appleby