BLACKHAWKS ANNOUNCE 2016 TRAINING CAMP ROSTER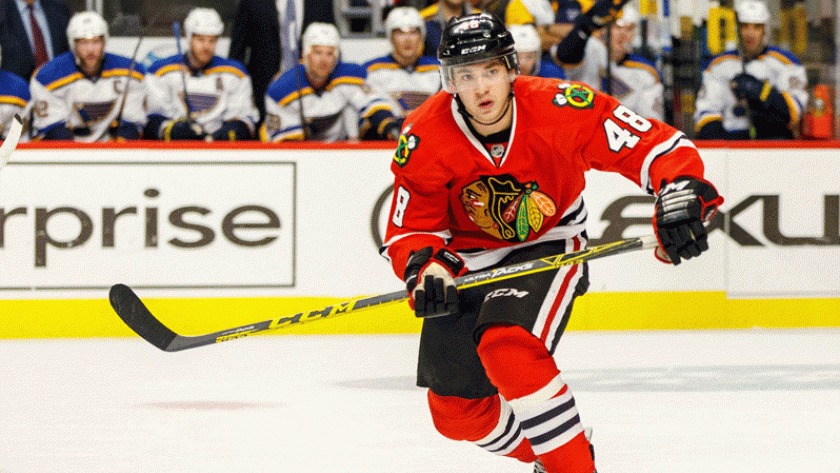 The Chicago Blackhawks will open their 2016 training camp at Johnny's IceHouse West (2550 W. Madison) on Friday, Sept. 23. The club will open camp with 31 forwards, 15 defensemen, and five goaltenders on the roster. Additionally, the Blackhawks have six forwards, three defensemen and one goaltender competing in the World Cup of Hockey.

The Blackhawks training camp roster features 29 players who have spent time in Rockford - 13 forwards, 12 defensemen, and four goaltenders. The roster includes both players who served as team captain for the IceHogs last season in Jake Dowell and Brandon Mashinter, 2015-16 leading scorer Vince Hinostroza, top goal-scorer Mark McNeill, and the team's leading scorer among defensemen Ville Pokka. Spencer Abbott, who notched 21 points in 19 regular season games and six points in eight playoff contests in 2014-15 with Rockford, makes an appearance as well. For the full roster, click here.

The sold-out 2016 Blackhawks Training Camp Festival will be held from 8:00 a.m. to 1:00 p.m. on Saturday, Sept. 24. The marquee event will allow a sold out crowd inside the United Center from 9 a.m. to 1 p.m. to watch the Blackhawks' on-ice training camp scrimmage and feature exclusive looks behind the scenes with live analysis and player interviews by Blackhawks broadcasters John Wiedeman, Troy Murray, Steve Konroyd and Judd Sirott. The Festival will also feature appearances by Blackhawks Ambassadors and the first 10,000 fans to enter the building will receive a Brent Seabrook bobblehead. Outside, the Festival will be open from 8 a.m. to 12 p.m. and include live music, a portable Bud Light bar, food and beverage tent, interactive photo booths, family-friendly games, a Blackhawks Fan Combine and a 3-on-3 Youth Street Hockey Tournament.

All six of Chicago's preseason contests will be carried on television for the second straight year. Three Blackhawks preseason games will be broadcast on Comcast SportsNet (Oct. 1 vs. St. Louis, Oct. 4 vs. Detroit and Oct. 8 at St. Louis), in addition to two games (Sept. 28 vs. Pittsburgh and Oct. 2 at Detroit) on Comcast SportsNet Plus and one contest on WGN-TV (Sept. 30 at Pittsburgh). WGN Radio AM-720 will air all six of the team's preseason tilts. The preseason matchups can be also heard on wgnradio.com/listen or on mobile devices, including the iPhone, iPad, iPod Touch, BlackBerry and Droid. For more information log on to wgnradio.com/mobile.