BLACKHAWKS AGREE TO ECHL AFFILIATION EXTENSION WITH INDY FUEL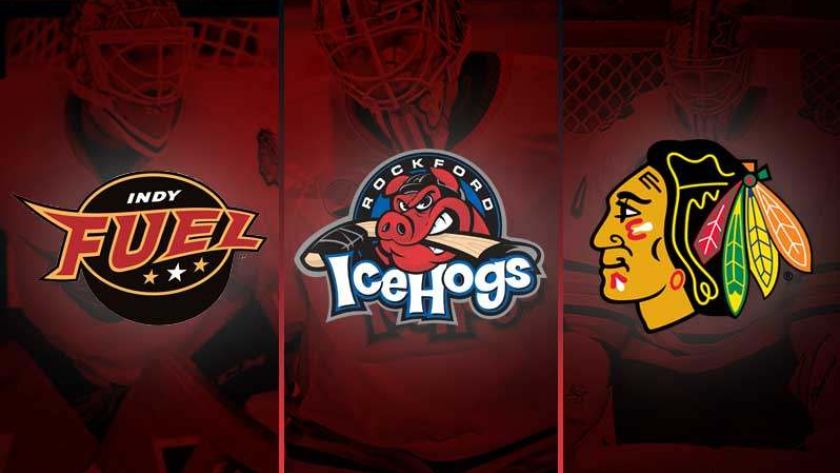 CHICAGO, Ill. - The Chicago Blackhawks announced today that they have agreed to terms on a three-year affiliation extension with the Indy Fuel of the ECHL, the leading professional developmental league for the American Hockey League and National Hockey League. The agreement runs through the 2021-22 campaign.
"Since our partnership began in 2014, the Indy Fuel organization and Chairman Jim Hallett have done an exceptional job developing prospects in our organization for the next level," Chicago Blackhawks Vice President of Hockey Operations/Team Affiliates Mark Bernard said. "We are excited to continue our relationship with the Fuel and look forward to the continued growth of players in our system who pass through Indy."
The Fuel, based in Indianapolis, Ind., have been the Chicago Blackhawks ECHL affiliate since April 1, 2014 when they began as the league's 23rd franchise. They play their home games at Indiana Farmers Coliseum on the Indiana State Fairgrounds. 2014 marked the return of professional hockey to Indianapolis following the 16-year run of the Indianapolis Ice, which operated from 1988-99 in the International Hockey League and 1999-2004 as a member of the Central Hockey League. The Ice served as the primary affiliate for the Blackhawks from 1989-1998.
In addition to the organization's partnership with Indy, the 2019-20 season will mark the 13th year of the Blackhawks AHL affiliation with the Rockford IceHogs.
Last season, nine players skated with both Indy and Rockford, including Radovan Bondra, Matheson Iacopelli, Kevin Lankinen, Neil Manning, Josh McArdle, Connor Moynihan, Dmitry Osipov, Spencer Watson and Brett Welychka.
Season Tickets for 2019-20 on Sale Now:
Don't miss a moment of the action next season. Reserve your seats for the IceHogs' 21st season of professional hockey in Rockford and 13th as the top AHL affiliate of the Chicago Blackhawks. The IceHogs' home opener is set for Oct. 12 and ticket packages begin as low as $132 for an eight-game mini pack. Contact us at (815) 847-6399 or visit icehogs.com to claim your spots for this upcoming season.