BLACKHAWKS ACQUIRE SCHROEDER FROM COLUMBUS IN EXCHANGE FOR BERUBE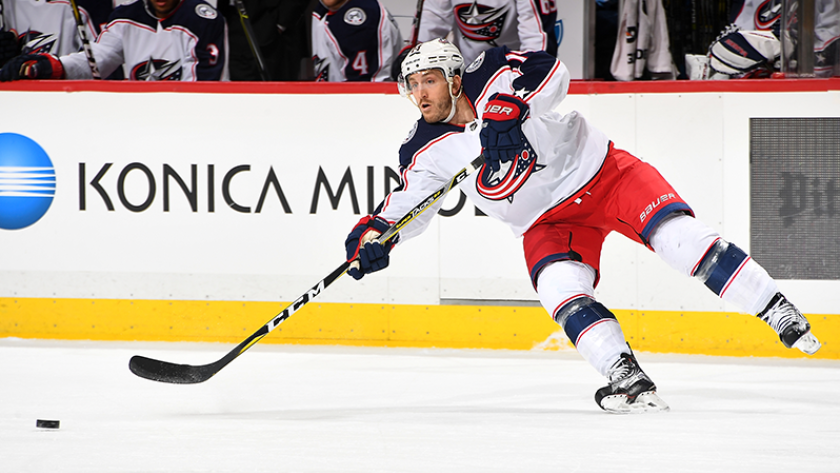 ROCKFORD, Ill. – The Chicago Blackhawks announced today that they have acquired forward Jordan Schroeder from the Columbus Blue Jackets in exchange for goaltender J.F. Berube.
Schroeder, 27, spent the majority of the 2017-18 season with the Cleveland Monsters, logging 36 points (14g, 22a) in 48 AHL contests. The forward shared second on the team in assists, ranked third among Monsters skaters in overall scoring and finished fifth with 118 shots on goal. Schroeder also posted eight multi-point efforts and concluded the season with 10 points (3g, 7a) over his final seven AHL games.
The Lakeville, Minnesota native also collected a goal and an assists in 21 NHL contests with the Columbus Blue Jackets in 2017-18. He made his team debut on Nov. 14 at Montreal and scored his lone NHL goal of the campaign on Jan. 18 vs. Dallas.
Originally selected by the Vancouver Canucks in the first round (22nd overall) of the 2009 NHL Draft, Schroeder has tallied 42 points (18g, 24a) in 165 career regular-season games with the Canucks (2012-14), Minnesota Wild (2014-17) and Blue Jackets (2017-18). In addition, the forward has also combined for 231 points (91g, 140a) in 340 career AHL games with Manitoba (2009-11), Chicago (2011-13), Utica (2013-14), Iowa (2014-17) and Cleveland (2017-18).
Schroeder has represented the United States on the international circuit on six separate occasions. Most recently, he recorded an assist in nine games during the 2016 World Championship. Schroeder served as an alternate captain and had eight points (3G, 5A) en route to a Gold Medal at the 2010 World Junior Championship, won a Silver Medal at the 2007 U18 World Junior Championship and captured a Bronze Medal in 2008.
Berube, 26, backstopped the IceHogs to a 32-save shutout in his team debut in the 2017-18 opener and finished the season with a 7-8-0 record, 2.37 GAA and .920 save percentage in 15 AHL games. He went unbeaten through his first five starts with Rockford, posting a 1.38 GAA and .950 save percentage in that span, before making a season-high 38 saves on Nov. 25 at Chicago.
Berube also appeared in 13 NHL games with the Blackhawks last season and went 3-6-1 with a 3.78 GAA and .894 save percentage. The netminder made his Chicago debut on Dec. 6 at Washington and won his first start with the Blackhawks with 42 saves on Feb. 23 vs. San Jose. Overall, he is 9-10-4 with a 3.39 GAA and .898 save percentage in 34 career NHL games.
Season Tickets for 2018-19 on Sale Now:
Don't miss a moment of the action by reserving your seats for the IceHogs' 20th season of professional hockey in Rockford and 12th as the top AHL affiliate of the Chicago Blackhawks. The IceHogs' home opener is set for Oct. 13 and ticket packages begin as low as $105 for a seven-game mini pack. Please contact us at (815) 847-6399 or visit icehogs.com to claim your spots for this upcoming season.