BLACKHAWKS ACQUIRE MARTINSEN IN EXCHANGE FOR BAUN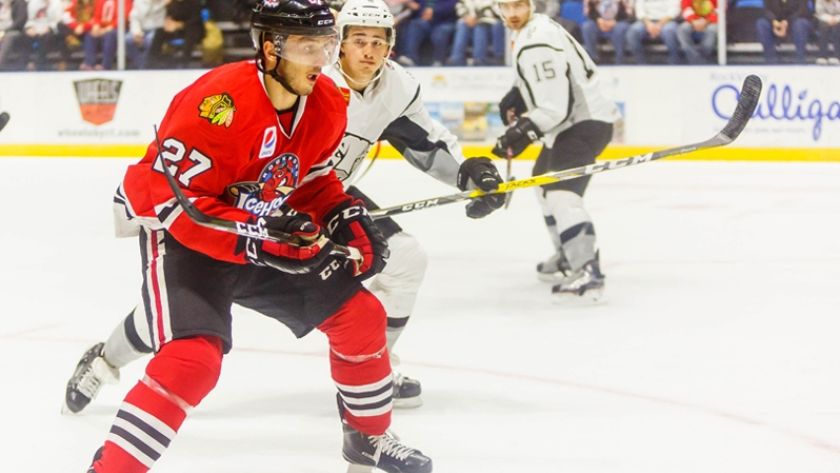 CHICAGO, Ill. – The Chicago Blackhawks announced today that they have acquired forward Andreas Martinsen (an-DRAY-uhs MAHR-tihn-sehn) from the Montreal Canadiens in exchange for forward Kyle Baun. Martinsen will report to the Rockford IceHogs.
Baun, 25, led the IceHogs in points during the 2016-17 season after posting 14g-20a-34pts in 74 games. The winger originally made his Rockford debut on Oct. 17, 2015 and has totaled 43 points (15g, 28a) in 117 career games with the IceHogs over the last two seasons. Baun also skated in three postseason games during the 2016 Calder Cup Playoffs.
The native of Toronto, ON has appeared in five NHL games with the Blackhawks during his pro career. He was originally signed by Chicago as an undrafted free agent on March 26, 2015.
Martinsen, 27, played 64 games in the NHL last season scoring three goals and tallying four assists—55 of those games were with the Colorado Avalanche while nine of them were with Montreal. Over his NHL career, Martinsen has skated in 119 games and recorded 18 points (7g, 11a). His NHL debut came on November 10, 2015 and with that he became the eighth Norwegian to play in the NHL. He has two games of Stanley Cup Playoff experience, both coming with Montreal in 2017.
A native of Bareum, Norway, he was undrafted and spent three seasons playing professionally in Germany with Dusseldorfer EG in the Deutsche Eishockey Liga prior to signing as a free agent by Colorado on May 15, 2015.
Next Home Game: The Rockford IceHogs return to action at the BMO Harris Bank Center for the 2017-18 Home Opener on Saturday, Oct. 14, at 6 p.m. The Hogs will take on the Iowa Wild and the first 4,000 fans in attendance will receive a free IceHogs calendar, courtesy of Impact Networking. Tickets can be purchased at IceHogs.com, by calling (815) 968-5222 or in-person at the BMO Harris Bank Center Box Office.