Blackhawks 2023 Training Camp Roster Announced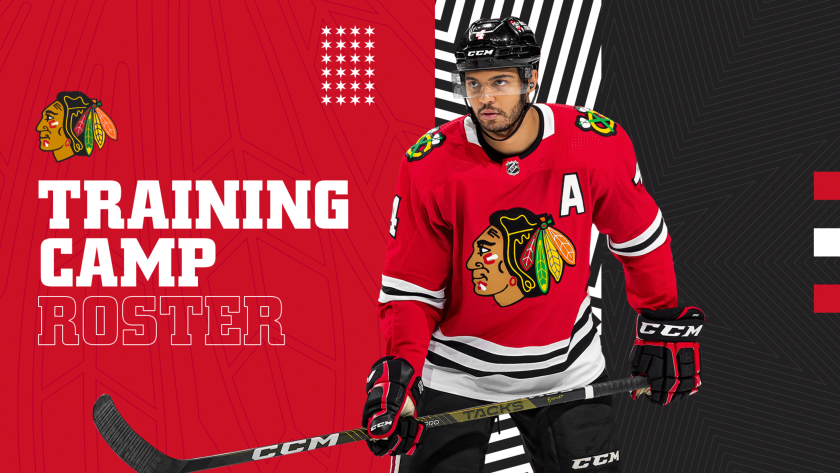 The Chicago Blackhawks today announced the roster for this year's training camp that will begin on Thursday, September 21 with a practice at Fifth Third Arena (1801 W. Jackson Blvd., Chicago) at 10 a.m. The roster features 55 players, including 34 forwards, 16 defensemen and five goaltenders.
20 players on the roster spent time in Rockford with the IceHogs last season, and six players on the roster are signed to AHL contracts with the Hogs for the 2023-24 season.
Practices will remain open to the public, however – new this season – fans must claim a free ticket to attend open practices at Fifth Third Arena. Fans can visit Blackhawks.com/Practices to claim up to four tickets for their preferred date (subject to availability), with all tickets distributed for mobile entry via the Blackhawks app or mobile wallet.

*Denotes spent time in Rockford in 2022-23
#Denotes AHL contract with Rockford for 2023-24
Forwards (34)
| | |
| --- | --- |
| No. | Name |
| 15 | Anderson, Joey* |
| 89 | Athanasiou, Andreas |
| 98 | Bedard, Connor |
| 24 | Bjork, Anders* |
| 43 | Blackwell, Colin |
| 28 | Dach, Colton |
| 16 | Dickinson, Jason |
| 8 | Donato, Ryan |
| 58 | Entwistle, MacKenzie |
| 75 | Felcman, Jiri |
| 17 | Foligno, Nick |
| 37 | Gust, David* |
| 70 | Guttman, Cole* |
| 71 | Hall, Taylor |
| 86 | Hardman, Mike* |
| 78 | Hayes, Gavin* |
| 52 | Johnson, Reese |
| 90 | Johnson, Tyler |
| 14 | Katchouk, Boris |
| 23 | Kurashev, Philipp |
| 76 | Lardis, Nick |
| 91 | Ludwinski, Paul* |
| 73 | Luypen, Jalen* |
| 53 | Marcel, Marcel# |
| 68 | Misiak, Martin |
| 94 | Perry, Corey |
| 64 | Pharand, Alex |
| 11 | Raddysh, Taylor |
| 27 | Reichel, Lukas* |
| 36 | Rolston, Ryder* |
| 28 | Saarela, Antti |
| 27 | Savoie, Samuel |
| 62 | Seney, Brett* |
| 92 | Teply, Michal* |
Defensemen (16)
| | |
| --- | --- |
| No. | Name |
| 42 | Allan, Nolan |
| 46 | Crevier, Louis* |
| 38 | Del Mastro, Ethan |
| 47 | Healey, Josh# |
| 4 | Jones, Seth |
| 44 | Kaiser, Wyatt |
| 55 | Korchinski, Kevin |
| 85 | MacDougall, Ross# |
| 56 | Maniscalco, Josh# |
| 5 | Murphy, Connor |
| 57 | Perrott, Andrew*# |
| 41 | Phillips, Isaak* |
| 48 | Roos, Filip* |
| 25 | Tinordi, Jarred |
| 72 | Vlasic, Alex* |
| 22 | Zaitsev, Nikita |
Goalies (5)
| | |
| --- | --- |
| No. | Name |
| 29 | Commesso, Drew* |
| 34 | Mrazek, Petr |
| 40 | Soderblom, Arvid* |
| 30 | Stauber, Jaxson* |
| 80 | Weeks, Mitchell*# |