Big Offseason Sets Stage for Highmore's Return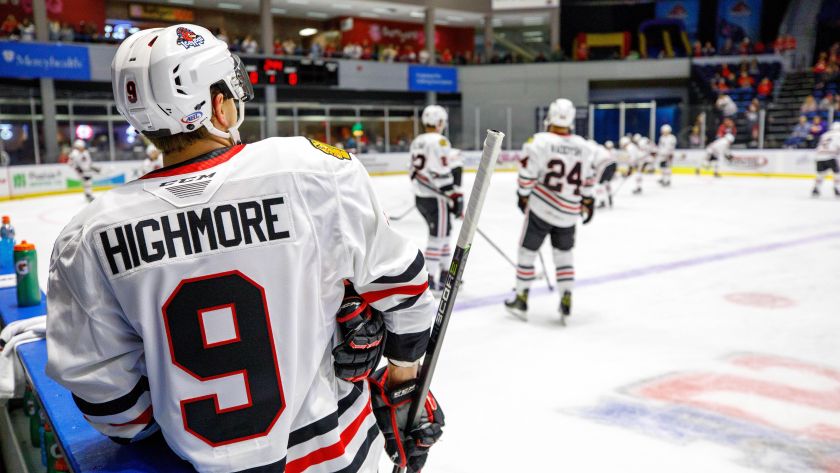 ---
ROCKFORD, Ill. - After asking the IceHogs how they spent their summers, nobody had an answer more ear-perking than Matthew Highmore. The two-year IceHogs veteran spent his offseason training with the likes of Sidney Crosby, Taylor Hall, Jack Hughes, Nathan MacKinnon and Brad Marchand.
"Those guys are top-10 players in the world," said Highmore. "They work hard during the offseason and their skates are just as intense as in-season, so it was great to be out there and pick their brains a little bit."
Highmore joined an assortment of about 20 skaters from some of the best professional and junior leagues in the world. The Halifax, Nova Scotia native grew up around several members of the group, but this was his first summer training alongside them.
"The way they prepare for the season is unlike anybody," said Highmore. "Nothing changes for me because I've been around some of those guys for a while. If anything, it's picking up little moves they have on the ice, or habits."
Goaltender Chase Marchand, who is with the IceHogs in training camp, also skated with the Halifax crew over the summer and commented on both the experience and Highmore's play.
"It's such a great opportunity to skate with such an elite group of talent," said Marchand. "Matt looked great over the summer and has been sharp here at training camp. He works tremendously hard and looks ready for the season."
Coming off an injury-shortened 2018-19 season in which he was limited to 12 games, Highmore feels confident after his summer back home.
"I feel 100 percent," said Highmore. "Obviously the work doesn't stop, I am 100 percent and that's the most important thing, but because of surgery I have to continue working at it to make sure [I'm] at 100 percent every day. But I feel great."
In the 12 contests Highmore appeared in last season, he posted three goals, six assists and served as an alternate captain. Prior to that, Highmore was named an AHL All-Star as a rookie in 2017-18 in a season where he set the IceHogs record for goals by a rookie with 24. The now 23-year-old forward also suited up 13 times for the Blackhawks in that season, providing two tallies.
With the potential for a much different IceHogs roster entering the new year, Highmore understands his role extends beyond himself.
"I want to come in and do my thing, help the young guys as much as I can," said Highmore. "I know the transition from juniors and college is a little bit tough for guys, not necessarily at the rink but away from the rink. So anything that I can do, you know, if they want to come for dinner or need help looking for a place, it's all the little things like that. I look to take more of a leadership role this year especially with where I'm going to be in the lineup."
While the IceHogs are still in their first week of training camp, the buzz around the rink is that this year's squad could be something special. Highmore echoed this sentiment when discussing his thoughts on the new faces in Rockford.
"Every year we come in very excited but this year we've got some new blood, some young guys," said Highmore. "They bring a youthful exuberance, [they're] excited to go to practice, excited to workout, excited to learn. We're really excited to get going; I know its only day two here but so far, so good. Practices have been good today and we want to continue growing good habits so it's automatic since the season is right around the corner."
The 2019-20 campaign has potential to be a big one for both the IceHogs and Highmore—a possibility that is not lost on him.
"I have high expectations," said Highmore. "I put in a lot of good work in the offseason and I feel good. [Fans] can expect more Matthew Highmore hockey."
---
NEXT HOME GAME: Saturday, Oct. 12 vs. Grand Rapids Griffins | 6 p.m.
The Rockford IceHogs will host their home opener for the 2019-20 season on Saturday, Oct. 12 against the Grand Rapids Griffins at 6 p.m. at the BMO Harris Bank Center. The first 4,000 fans in attendance to Rockford's first home game of the campaign will receive a free IceHogs calendar, courtesy of Impact Networking. Call the IceHogs front office at (815) 968-5222 or visit icehogs.com to purchase tickets.