BICKELL BRAVE T-SHIRTS NOW AVAILABLE ONLINE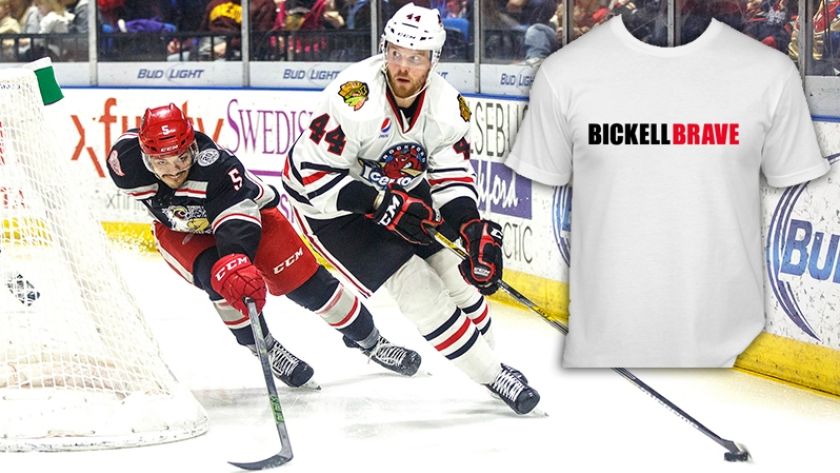 Rockford, Ill. – In support of former Rockford IceHogs and Chicago Blackhawks forward Bryan Bickell, IceHogs fans can now purchase "Bickell Brave" T-shirts at www.booster.com/bickellbrave.

Bickell was diagnosed with multiple sclerosis (MS) at the start of the 2016-17 season. He and his wife, Amanda, are using funds raised from the purchasing of these T-shirts through the Bryan and Amanda Bickell Foundation to provide therapy dogs to people with MS at no cost. All proceeds from the new Bickell Brave shirts will go towards this new initiative.

Shirts are $29 and fans are welcome to donate additional funds when purchasing the T-shirts. Orders are expected to ship in early-to-mid May. The website was designed by the Carolina Hurricanes and the shirts were worn by Bickell's Hurricane teammates at the 2017 Triangle MS Walk.

Bickell played parts of four seasons (2007-10, 2015-16) with the IceHogs and won two Stanley Cups with the Chicago Blackhawks (2013 and 2015). After missing the majority of the 2016-17 campaign while getting treatment for MS, the Bowmanville, Ontario native returned to the NHL with the Carolina Hurricanes and capped off his professional career with his first career shootout goal in his final game. Bickell has announced his intention to retire from playing professional hockey.
For more information, or to purchase "Bickell Brave" T-shirts, visit www.booster.com/bickellbrave.
Next Home Game: Saturday, April 15 vs. Iowa Wild, 7 p.m. The IceHogs host the Iowa Wild for the IceHogs last game of the 2016-17 season. Saturday is fan appreciation night and the first 2,500 fans will receive a Rockford IceHogs team photo courtesy of American Solutions for Business.