BALANCED HOGS PUSH STREAK TO NINE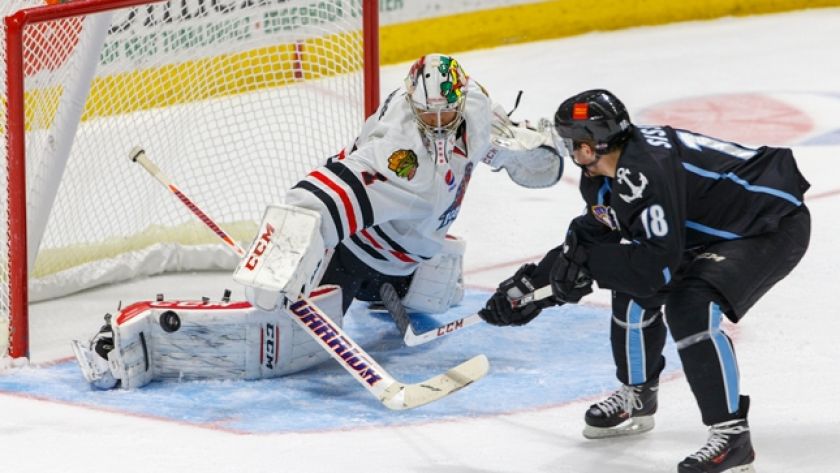 LaBarbera brilliant in 4-1 win over Milwaukee
Rockford, Ill – One night after stopping the Chicago Wolves eight-game point streak, the Rockford IceHogs extended their own streak to nine games (8-0-0-1) with a 4-1 win over the Milwaukee Admirals in front of a sold out BMO Harris Bank Center.
Offense has been the story for Rockford during the streak, but goalie Jason LaBarbera has quietly helped stabilize the IceHogs backend and on Saturday he earned his sixth straight win, blocking 36 Admirals.
Brad Winchester and the IceHogs were the first to send a puck home. At 9:19 of the opening frame, the Madison, Wis. winger fired a puck through traffic from behind the left face-off circle that got past former IceHogs netminder, Hannu Toivonen.
The power play tallied for the second straight night as Rockford's Adam Clendening and Pierre-Marc Bouchard worked the puck around to Brandon Pirri in the right face-off circle. Pirri fired the one-timer straight over Toivonen's shoulder into the corner for the net at 16:07 of period one for the 2-0 marker.
Extending his personal point streak to nine games, tying Joakim Nordstrom for the longest such streak of the season, Jeremy Morin took the puck during a 4-on-4 into the Admirals zone and fired a wrister home. The marker came with just 31.7 seconds left to give the IceHogs a 3-0 lead.
The Admirals replaced Toivonen to start the third period with Scott Darling. Despite the change in net, the IceHogs continued to tally in the third period as Terry Broadhurst took a puck from Clendening and tried to slot it to Winchester in front of the net. After the puck was blocked away, Broadhurst gathered the loose puck and flipped it off of Mark
McNeill and into the net past Darling setting the scoreboard to 4-0 at 6:11 of the final frame. The goal was the 16th on the season for McNeill.
The power play would give Milwaukee their first goal of the game with 10:47 remaining. Right winger, Vinny Saponari, recovered the puck in front of LaBarbera where he was able to move the puck to the side of the Hogs netminder and in to put the Admirals on the board at 4-1.
LaBarbera would do the rest and preserve the win for the IceHogs.
Next Home Game: Tuesday, March 4 against Rochester Americans. The puck is set to drop at 7 p.m. It is a WXRX Dollar Day at the barn where all fans in attendance can receive $1 hot dogs, sodas, and beers.