AHL ALL-STAR CLASSIC FEATURES THREE ICEHOGS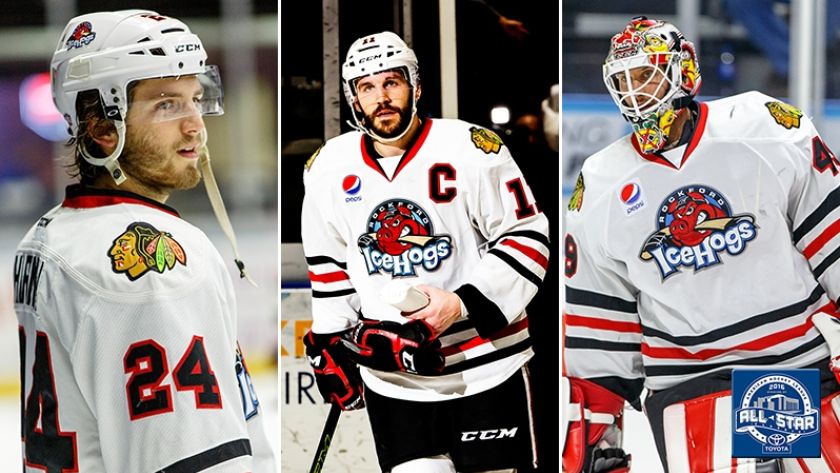 Rockford, Ill: The 2016 Toyota All-Star Classic festivities start this weekend with the skills competition on Sunday, Jan. 31, and followed by the All-Star Game on Monday, Feb. 1. The Rockford IceHogs are represented by three skaters in Jake Dowell, Ryan Hartman, and Michael Leighton. This is the first time in the IceHogs AHL tenure to feature three separate All-Stars in the same season.

Dowell and Hartman will be making their first All-Star appearances, while Leighton has earned his fourth trip to the AHL All-Star Classic.

The game will be televised live locally in the Rockford market on WIFR's Justice Network on 23.3, where all the IceHogs regular season and playoff games are aired, and in the Chicago area with Comcast SportsNet Chicago.

The AHL is also offering a free on-line stream available to the public. Simply login to AHLlive.com from a computer or mobile device, select the All-Star Broadcasts and enter the promo code 'ASC2016'.

The skills competition between the Western Conference and Eastern Conference All-Stars is set to air Sunday, Jan. 31 at 7 p.m. CT, followed by the game on Monday at 6 p.m. CT.

The Toyota All-Star Challenge will be using a new format, as the AHL's All-Stars will be divided into four teams, each representing their own respective division. The teams will then play a round-robin style tournament, each game with a nine minute duration, where the first half is played 4-on-4, and the second half is played 3-on-3. The two teams with the best records at the end of the tournament will face off in a 3-on-3 game lasting
six minutes to determine the champion.

Next Home Game: Friday, Jan. 29 versus Chicago Wolves at 7 p.m. The IceHogs host the Wolves in yet another Illinois Lottery Cup matchup. Rock Valley Culligan will sponsor a sock monkey giveaway to the first 2,500 fans. Doors will open at 5:15 p.m. for a Blues Flame Lounge Friday. Fans 21-and-older are invited to enjoy live blues music, a happy hour special, and free appetizers at the Blue Flame Lounge on the main concourse.