ADMIRALS SNAP HOGS STREAK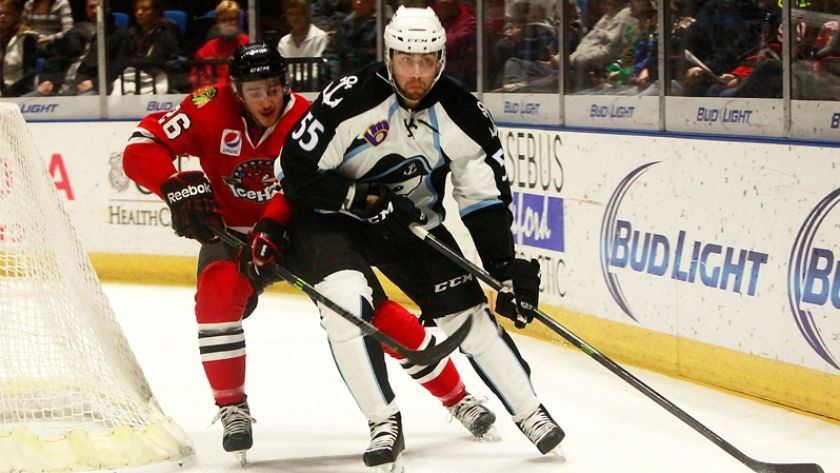 Rockford drops seventh-straight game to Milwaukee

Rockford, Ill. – It's been no secret that the Rockford IceHogs (10-3-0-1) have been hot to start the 2014-15 campaign, but one team that has given the IceHogs trouble on the young season has been the Milwaukee Admirals (9-3-0-0).

The trend continued on Friday as the Admirals put an end to Rockford's eight-game win streak, taking a 4-1 game at the BMO Harris Bank Center. The Hogs have now dropped seven-straight to Milwaukee, with the last IceHogs victory against the Admirals coming on Feb. 22, 2014.

The visiting Admirals struck first in the contest to take the 1-0 advantage in the opening period. IceHogs goaltender Scott Darling knocked down a Viktor Arvidsson shot but a scrambled ensued for the loose rubber. Milwaukee's Miikka Salomaki was able to locate the puck and slide it to the back of the net at 17:05 of the first to give the Admirals a one-goal lead.

Milwaukee continued the strong play in the middle frame as the Ads extended the lead just after killing off a penalty. With plenty of traffic in front of Darling, Taylor Aronson was able to fire one to the back of the cage just 2:11 into the period.

Rockford countered Aronson's tally with a goal from their hottest line combination. Defenseman Ville Pokka kept a puck from escaping the Rockford zone and tapped a pass to a streaking Mark McNeill. McNeill skated towards the Ads net before setting up Phillip Danault to rip a shot past Magnus Hellberg at 10:06 of the second stanza. With the assist, McNeill - the American Hockey League's reigning Player of the Week - continued his hot stretch with getting at least a point in each of his last six games (7g-4a).

The Admirals pushed their lead to 3-1 when Salomaki tallied his second goal of the contest at the 5:27 mark of the final period. Arvidsson and Aronson each notched helpers on the goal. Milwaukee put the game out of reach when Arvidsson tacked on an empty netter in the waning seconds, as the IceHogs were fighting to keep their winning streak alive.

Hellberg made 25 saves picking up the win for Milwaukee, making a few of his biggest stops in the third period. The loss was Darling's (27 saves) first of the season, and the first for Rockford since a 3-2 defeat at Rochester on Oct. 22.

Next Home Game: Sunday, Nov. 16 vs. Texas Stars. Game starts at 4 p.m. The IceHogs round out their first three-in-three set of the season as they host the defending Calder Cup Champion Texas Stars at the BMO Harris Bank Center. Fans can stay after the game's conclusion to take the ice with their favorite players in another rendition of "Skate With the Hogs".