2023 Blackhawks Prospect Camp Recap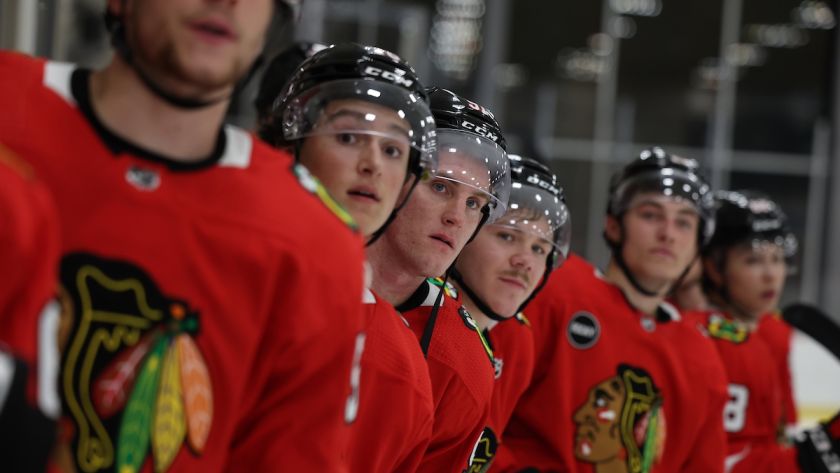 With the 2023-24 hockey calendar rapidly approaching, the first chance this season for Chicago Blackhawks prospects to prove that they belong in professional hockey comes at Prospect Camp. On Wednesday, 23 Blackhawks prospects who could become NHL rookies this season descended upon Fifth Third Arena in Chicago to skate as a group before putting their skills on display at the 2023 Tom Kurvers Prospect Showcase in St. Paul. Over the five days of camp and the showcase, coaches, fans, and media all received a glimpse at what the future of the Chicago Blackhawks could look like.
In the first few days of camp in Chicago, some of the Blackhawks' older prospects took the opportunity to display their leadership qualities amongst the younger players.
"I'm always on the more vocal side of the group," said 2021 second-round pick Colton Dach. "I want to let the young guys know that if they need anything, they can come out and try to talk to me."
Dach is one of several prospects looking to make the jump to pro hockey this season. 2021 first-round pick Nolan Allan is also gearing up to show the organization that he can be a valuable piece on the blue line moving forward.
"I'm trying to show the organization that I'm pro ready and can play that pro style of hockey," said Allan after the first day of camp. "Just playing to my strengths will help that a lot."

Game 1 Recap: 5-0 win against St. Louis Blues prospects
Connor Bedard stole the show on Saturday night at TRIA Rink. The first overall pick in the 2023 NHL Entry Draft scored a hat trick including a pair of power-play snipes. Dach and defenseman Louis Crevier also added tallies en route to a convincing win.
The first period was defined by physical play and penalties. Andrew Perrott, a blueliner who played in 13 games with the AHL's Rockford IceHogs and 51 games with the ECHL's Indy Fuel in 2022-23, dropped the gloves in the middle of the frame, and the Blackhawks killed off four shorthanded opportunities that followed closely after. On the penalty kill, the long reach of 6-foot-4 Jiri Felcman and 6-foot-4 Marcel Marcel helped clear the defensive zone on multiple occasions. Felcman was taken in the third round by Chicago in the 2023 draft, and Marcel was taken in the fifth. The Pilsen, Czech Republic native Marcel signed an AHL contract with the Rockford IceHogs over the summer.
Goaltender Drew Commesso staged a shutout but was quick to heap praise onto his teammates.
"My defenseman did a terrific job of letting me see pretty much every puck," noted the former second-round pick from 2020. "So I give a lot of credit to them." Commesso spent last season at Boston University and signed an NHL contract with the Blackhawks in April, meaning he'll make the leap to professional hockey this season. "I felt pretty good. It was great to get back on the ice in a game setting."
Wyatt Kaiser captained the Chicago prospects and helped control the flow of the game from the blueline. Playing in his home state, the Andover, Minnesota native looked like he is ready to build on last season in which he appeared in nine NHL contests with the Blackhawks.
"I felt the intensity was up," said Kaiser of Saturday night's game. "We had a lot of line rushes, so my gaps felt pretty good and it translated well." He added, "I try to use my abilities, and speed I think is one of them, so when I can get a jump on a transition and I can go, I can attack the net a lot. I definitely was thinking about that a lot this summer and trying to work on it."
After successful efforts on Saturday, both Bedard and Kaiser were held out of Sunday's affair.
Game 2 Recap: 7-4 loss to Minnesota Wild prospects
2023 third-round selection Nick Lardis opened the scoring just 81 seconds into Sunday afternoon's game with a shot that pinged off the right post and in. Lardis, who just turned 18 in July, showcased his smooth skating and goal-scoring ability throughout the contest and scored his second goal of the game later in the first period with a deflection in front of the net.
The Chicago prospects' high-end speed stood out in periods one and two. On Ryder Rolston's first-frame score, defenseman Kevin Korchinski controlled the puck around the offensive zone before accurately placing a cross-rink pass to Rolston's wheelhouse. Later in the first, blueliner Nolan Allan activated from the blue line to generate the scoring chance that led to Lardis' second goal of the afternoon.
Rockford IceHogs Head Coach Anders Sorensen coached the prospects throughout camp and the showcase games, and he had high praise for 2023 second-round pick Martin Misiak who scored in Sunday's game. "I liked him a lot," said Sorensen. "He has good instincts offensively and good off the puck. I really like his awareness, and he's good on faceoffs as well."
"A lot of positives," remarked Sorensen about the second game as a whole. "I think towards the end of this game we were tired, obviously. But a lot of positives overall."
The next step for several of Chicago's prospects will report to Blackhawks Training Camp, starting on Wednesday, Sept. 21 at Fifth Third Arena.