2018-19 SEASON-OPENING STORYLINES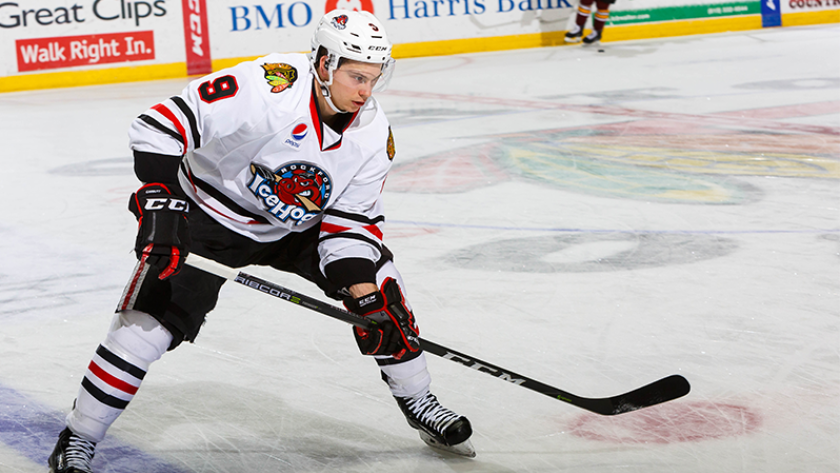 The Rockford IceHogs open the 2018-19 season Friday night against the Cleveland Monsters.
The last time fans saw the team in action, the IceHogs were in the AHL Western Conference Finals battling for the Calder Cup. Though the team has a long way to go before the high-stakes action of the postseason, there's no shortage of intrigue in Rockford to open the year.
A New Sikura in Town
IceHogs fans will see a familiar name, but a new face, at the start of the season, as Dylan Sikura joins his brother, Tyler in Rockford. The Blackhawks 2014 sixth round draft pick was a Hobey Baker Award finalist at Northeastern University last year.
"[Dylan] is a super talented player," Tyler said. "I think he's offensively very crafty. He's got a lot of speed. He can kind of beat you with a pass or with his shot."
Dylan may add an offensive jolt to the IceHogs lineup, as his brother predicts. The 23-year-old was one of the NCAA's elite players last year. His 54 points (22g, 32a) in 35 games were the third most by any NCAA skater in the 2017-18 season.
With serious NHL aspirations on the line, Dylan hopes to make the most of his time in Rockford.
"I told [Dylan] when he got sent [to Rockford] this is going to be the best thing that's ever happened for him," Tyler said. "If you can take some steps here and show some things and progress then you can step in [to the NHL] when you're ready."
Sikura Brothers
The reunion of the Sikura brothers adds its own element of excitement to Dylan's IceHogs debut. The two have not played organized hockey together since high school junior varsity, save a September Blackhawks preseason game in Ottawa.
"[Playing together] was something that came about pretty organically," Tyler said. "As the last couple years have progressed, and our careers have been on different paths, but kind of converging at the same place, it's been something that we've talked about.
"Obviously we hope to do it [in Chicago] at some point, but [Rockford] is a pretty awesome starting ground and it's nice to have a familiar face around the room."
But being together in Rockford does more than just provide a comfort level. Both Dylan and Tyler echoed a belief that the other's presence will help elevate their own game.
"[Tyler] is more of a two-way guy," Dylan said. "He thinks the game really well and uses his IQ to his advantage. I'm more of a speedy, up and down the wing kind of guy… Maybe if you blended us two together we'd be the perfect player."
What's the Delia?
Goaltender Collin Delia is fighting for an NHL role after a red-hot finish to the 2017-18 season. Delia was 10-1-2 in his final 13 regular season games and rode that momentum into the 2018 Calder Cup playoffs, where he was victorious in 10 of his 13 starts.
"I had a stretch there [where] I was able to play a good chunk of games and that really helped me define my game," Delia said. "It [was] a huge point of validation for myself."
Delia has said that his goal is to play in Chicago this year. At the same time, the second-year pro is prepared for a greater role in Rockford, should that be where he spends the majority of the season.
"Team success is going to be personal success," Delia said. "If you're contributing to the team goal of winning a championship, I think a rising tide raises all ships."
Young Veterans
Though the IceHogs have plenty of firepower returning, the team did lose several players who were locker room leaders last season. Younger players who have already spent time in Rockford may have to take on this leadership torch.
One such player is second-year forward Matthew Highmore. Highmore set the IceHogs rookie goal-scoring record with his 24 tallies last season. Now, he wants to develop his mindset as much as any area of his playstyle.
"I want to continue to get better at all facets," Highmore said. "Probably take a little bit more of a leadership role this year. We do have a young team. That's something that I'm excited about. I want to be able to help the young guys and help our team win every day."
IceHogs head coach Jeremy Colliton wants all his returning players to set the tone for the newcomers.
"I do feel pretty comfortable with the guys who are coming back, that they know what's expected and the sort of mentality we want to have on a day-to-day basis," Colliton said. "Hopefully they can first of all lead by example, but [also] help everyone else to get to that level."
Turning the Page
The IceHogs' appearance in the 2018 Western Conference Finals marked the team's longest ever AHL postseason run. In his second year behind the bench, Collition says his main adjustment will be holding his team to a higher standard in light of last season's success.
"My approach is different in that we're going to demand more, earlier," Colliton said. "We think we have a chance to have a really good team and so we're not going to accept less."
Though last season left Rockford with much to be proud of, the team wants to build rather than replicate.
"I was really happy that we went as far as we did," Delia said. "It kind of made me [angry], quite honestly, that we didn't go all the way and compete for a championship when we were that close. Now it kind of lights a fire."