2018-19 IN REVIEW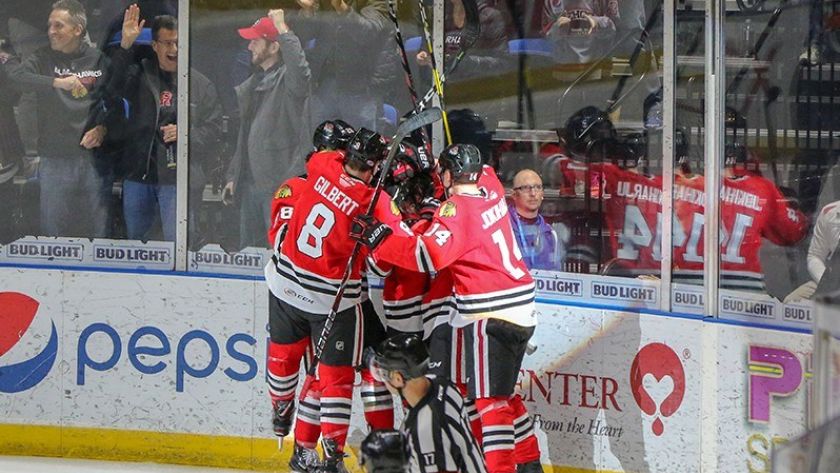 ROCKFORD, Ill. – The Rockford IceHogs capped another successful season in 2018-19, stringing together a postseason push through the final months of the campaign to remain in the thick of the playoff hunt up until the final game of the year. Below is a breakdown of notable achievements and milestones for both the entire Rockford team and individual skaters from the 2018-19 season:
---
80'S PARTY
The Rockford IceHogs went 19-13-1-1 over the last 34 games of the season (beginning Jan. 19) to conclude the 2018-19 campaign with 80 points and an overall record of 35-31-4-6. The Hogs have now posted 80+ points in back-to-back seasons, four of the last five campaigns and nine of 12 total seasons since joining the AHL in 2007-08.
MOVIN' ON UP
Jeremy Colliton began his second consecutive season as Head Coach of the IceHogs in 2018-19 before being promoted to Head Coach of the Chicago Blackhawks on Nov. 6. Colliton, who became the youngest head coach in the NHL at age 32, capped his Rockford tenure with a record of 46-31-5-6 (.585) and having helped the Hogs reach the Western Conference Finals for the first time in team history (2018 Calder Cup Playoffs).

Colliton then made his NHL head coaching debut on Nov. 8 vs. Carolina and led the Blackhawks to a 30-28-9 record in 67 games.
KING ME
Derek King replaced Jeremy Colliton as Interim Head Coach of the IceHogs on Nov. 6. He took over behind the bench with 11 years of experience as an Assistant Coach in the American Hockey League, including coaching on Rockford's staff during each of the last three seasons. King made his AHL head coaching debut on Nov. 7 vs. Iowa, notched his first win on Nov. 9 at Milwaukee and finished the season with a coaching record of 29-28-3-4.
HOME IS WHERE THE HOG IS
Rockford went 13-6-0-0 over its last 19 home games en route to finishing with a home record of 21-14-1-2. The Hogs have notched 20+ home wins in nine of 12 total seasons since joining the AHL in 2007-08, only missing the milestone in 2016-17 (16 wins), 2011-12 (18) and 2010-11 (19).
WE'RE OVER IT
Rockford tied for the league lead with 26 overtime games during the 2018-19 regular season. The IceHogs went 12-4 in OT to set the team's AHL record for OT wins and finish tied with Toronto for the most OT wins in the AHL this year. Over the last four seasons, only four teams in the AHL have played in more OT games than the IceHogs in 2018-19 (Rochester 29, Texas 28 and Utica 27, all In 2017-18).
ROOKIE MOVE
IceHogs rookies produced 41.3 percent of the team's total offense this season. Sixteen different Rockford rookies combined to total 203 points, including seven rookies posting double-digit point totals on the year. The IceHogs also featured 17 skaters (eight forwards, eight defensemen and one goaltender) who made their AHL debut with the team in 2018-19.
SAVE THE DATE
Collin Delia (.922) and Anton Forsberg (.919) concluded the year ranked second and tied for third, respectively, in the AHL in save percentage. Since Rockford joined the AHL in 2007-08, no other team in the league has finished a season with two goaltenders ranked among the top three in save percentage. The closest (and most recent) team was Grand Rapids in 2015-16 when Tom McCollum and Jared Coreau finished third and tied for fourth.
TWO FOR THE SHOW
The IceHogs limited opponents to two or fewer goals in 36 of 76 games (47.4%) in 2018-19. The Hogs finished the year ranked first in the AHL in save percentage (.913) and seventh in the league in fewest goals allowed per game (2.82).
DIALED IN DYLAN
Dylan Sikura was named the IceHogs' Rookie of the Year after posting a team-high nine multi-point efforts and leading all team rookies in scoring with 35 points (17g, 18a) in 46 games. He capped his strong debut with 13 points (6g, 7a) and four multi-point efforts over his final 14 contests of the season, dating back to Jan. 21. With the effort, Sikura finished the year ranked 10th among AHL rookies (who skated in at least 45 games) in points per game (.76) and 14th among AHL rookies in goals.
In addition, Sikura also potted six of his 17 total goals as game-winning tallies. His six game-winners were tied for the most among AHL rookies this season and finished as two more than any other IceHogs rookie during the team's AHL affiliation.
WILL THE THRILL
William Pelletier sparked a thrilling come-from-behind victory on April 2 vs. San Antonio, scoring two goals within a span of just 13 seconds during the third period. The feat ranked as the second-fastest pair of goals by a single player in the AHL for the entire 2018-19 season. Only Ben Gleason's two goals in 11 seconds for Texas on Dec. 27 finished ahead of Pelletier.
CAPTAIN CAMPBELL
IceHogs defenseman Andrew Campbell became Rockford's first player in team history to serve as captain at the AHL All-Star Game when he was named the playing captain of the Western Conference for the 2019 Lexus AHL All-Star Classic on Dec. 20. Campbell skated in each of the three games during the annual showcase and piloted the Central Division to a 1-2-0-0 record.
The veteran blueliner also starred in the 2019 All-Star Skills Challenge, finishing second in the CCM Hardest Shot event with a 99.5 MPH slap shot. His impressive blast was just shy of Lehigh Valley forward Greg Carey's 100.4 MPH shot for the Eastern Conference.
MR. 700
Andrew Campbell became just the 74th player in the AHL's 82-year history to skate in 700 career AHL games when he took the ice as a starter for Rockford's game against Tucson on Feb. 9 at the BMO Harris Bank Center. Overall, he has skated in 719 career AHL games during his 11-year career between Manchester (2008-14), Portland (2014-15), Toronto (2015-17), Tucson (2017-18) and Rockford (2018-19). Campbell, who was an alternate captain for the Hogs in 2018-19, has now also served as captain or alternate captain of each of those five teams, including wearing the "C" with Manchester, Toronto and Tucson.
Campbell concluded 2018-19 season ranked tied for 12th all-time in AHL history in career plus/minus (+92), 26th in career games played by a defenseman and 66th overall in career games played.
YEAR OF THE PIG
Both Jordan Schroeder and Luke Johnson set career-high marks in scoring during the 2018-19 campaign. Schroeder reached his new career mark of 45 points (19g, 26a) in 14 fewer games than his previous record with the Chicago Wolves in 2011-12 (44 points, 76 games). Johnson set his career best of 31 points through 20 fewer games than his original record from 2017-18 with the IceHogs (30 points, 73 games).
ENJOY THE SHOW
Five skaters who took the ice with Rockford in 2018-19 also made their NHL debuts during the 2018-19 season in forwards Alexandre Fortin (Oct. 11 at Minnesota), Luke Johnson (Oct. 4 at Ottawa) and Jacob Nilsson (Dec. 23 vs. Florida) and defensemen Dennis Gilbert (April 3 vs. St. Louis) and Henri Jokiharju (Oct. 4 at Ottawa). Fortin led the group of forwards in NHL playing time last year with 24 games, while Jokiharju paced the overall group with 38 games for Chicago in 2018-19.
Overall, 11 skaters saw time with both Rockford and Chicago last season.