2014 NHL DRAFT: GETTING A START IN ROCKFORD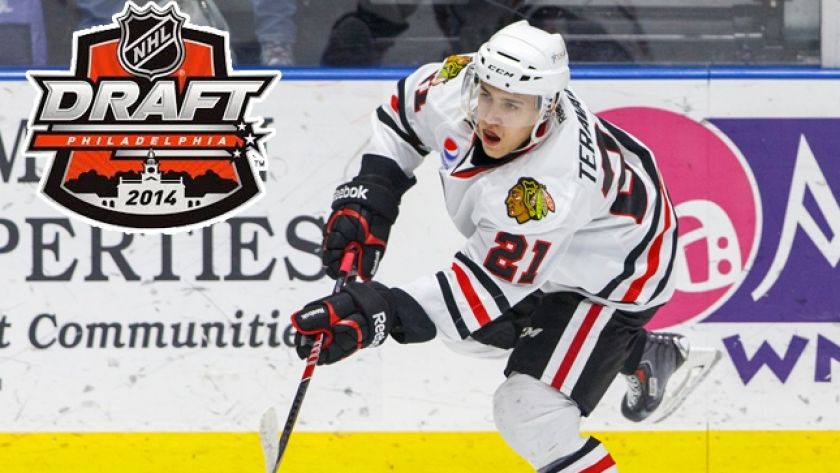 Rockford, Ill. – With the Chicago Blackhawks continuing to build on their recent success in the National Hockey League, the long term success of the club will be built this weekend through the NHL Entry Draft.

After all 30 NHL teams make their selections in the seven-round draft, which begins with the first round on Friday night, a vast majority of the players selected will begin their careers in the American Hockey League with hopes of making it to the next level.

Since 2007, the Rockford IceHogs have played a key role in developing Blackhawks prospects to get them ready to make the jump to the NHL. This past season, each first round draft pick by Chicago from 2008 to 2013 played in Rockford, with the exception of the Blackhawks 2010 first round selection, Kevin Hayes (24th overall). In all, seven first rounders donned an IceHogs uniform in 2013-14 (Kyle Beach, Pierre-Marc Bouchard, Phillip Danault, Ryan Hartman, Mark McNeill, Dylan Olsen, Teuvo Teravainen).

Since becoming the AHL affiliate for the Blackhawks in 2007-08, 181 total players have worn an IceHogs uniform. Of those players, 101 (55.8%) were drafted by an NHL team via the Entry Draft, with 55 (30.3%) drafted by the Blackhawks.

The 2013-14 season saw 43 different skaters in an IceHogs sweater, with 28 of them coming from the draft (65.1%), including 20 selected by the Blackhawks (46.5%).
Below are a few facts about the NHL draft picks that have played for the Rockford IceHogs:

Highest draft pick to play for the IceHogs: Cam Barker (3rd overall in 2004 with Blackhawks)

Lowest draft pick to play for IceHogs: Sean McMorrow (258th overall in 2000 with Buffalo)

Lowest Blackhawks draft pick to play for IceHogs: Dustin Byfuglien (245th overall in 2000)

First round draft selections to play for the IceHogs (21):

Ryan Hartman
30th overall (2013) by Chicago
Teuvo Teravainen
18th overall (2012) by Chicago
Mark McNeill
18th overall (2011) by Chicago
Phillip Danault
26th overall (2011) by Chicago
Nick Leddy
16th overall (2009) by Minnesota
Dylan Olsen
28th overall (2009) by Chicago
Philippe Paradis
27th overall (2009) by Carolina
Kyle Beach
11th overall (2008) by Chicago
Ivan Vishnevskiy
27th overall (2006) by Dallas
Kenndal McArdle
20th overall (2005) by Florida
Jack Skille
7th overall (2005) by Chicago
Cam Barker
3rd overall (2004) by Chicago
Rostislav Olesz
7th overall (2004) by Florida
Hugh Jessiman
12th overall (2003) by New York Rangers
Pierre-Marc Bouchard
8th overall (2002) by Minnesota
Hannu Toivonen
29th overall (2002) by Boston
Jeff Taffe
30th overall (2000) by St. Louis
Nick Boynton
21st overall (1999) by Boston and 9th overall (1997) by Washington
Sergei Samsonov
8th overall (1997) by Boston
Dan Cloutier
26th overall (1997) by New York Rangers
Jassen Cullimore
29th overall (1991) by Vancouver
Blackhawks picks by draft year to play for the IceHogs (alphabetical order):
2013: (1)
Hartman
2012: (2)
Ross, Teravainen
2011: (8)
A. Broadhurst, Clendening, Danault, Dahlbeck, McNeill, Saad, Shalunov, Shaw
2010: (5)
Carruth, Flick, Johns, Nordstrom, Simpson
2009: (5)
Froese, Gilbert, Kruger, Olsen, Pirri
2008: (5)
Beach, Carlsson, Gleason, Lalonde, Smith
2007: (3)
Aliu, Lavin, Tanguay
2006: (4)
Danis-Pepin, P. LeBlanc, Makarov, Palmer
2005: (10)
Bertram, Blunden, Brophey, Charlebois, Davis, Fallon, Hjalmarsson, Hobson, Skille, Turner
2004: (7)
Barker, Berti, Bickell, Bolland, Brouwer, Dowell, Kontiola
2003: (3)
M. Brodeur, Byfuglien, Crawford
2002: (1)
Wisniewski
2001: (1)
M. Keith
Players to play for the IceHogs by round:

First Round: 21
Barker, Beach, Bouchard, Boynton, Cloutier, Cullimore, Danault, Hartman, Jessiman, Leddy, McArdle, McNeill, Olesz, Olsen, Paradis, Samsonov, Skille, Taffe, Teravainen, Toivonen, Vishnevskiy
Second Round: 26
Aliu, Bertram, Bickell, Blunden, Bolland, Christian, Clendening, Crawford, Cullimore, Danis-Pepin, Davis, Hayes, Janik, Johns, Keith, R. Johnson, Makarov, Morin, Pineault, Pirri, Richmond, Saad, Sauve, Simpson, Stephenson, Winchester
Third Round: 16
Berti, Bois, Brent, Brophey, Dahlbeck, Fraser, A. Johnson, LaBarbera, Lalonde, Nordstrom, Peckham, Potulny, Quick, Skinner, Tanguay, D. Toews
Fourth Round: 11
Davis, Flick, B. Fahey, Froese, Hjalmarsson, Palmer, Petiot, Sarauer, Segal, Shalunov, Sharrow
Fifth Round: 12
Collins, Dowell, Flinn, Koci, Kruger, Lavin, Ross, Sawyer, Shaw, Turner, Versteeg, Wisniewski
Sixth Round: 8
Carlsson, Charlebois, DiDomenico, Fallon, Kessel, B. Smith, Torquato, York
Seventh Round: 10
Archer, A. Broadhurst, Brodeur, Brouwer, Carruth, Gilbert, Gleason, Hobson, Kontiola, LeBlanc
Eighth Round: 5
Byfuglien, Exelby, J. Fahey, McMorrow, Paiement
Ninth Round: 2
Flaherty, McLean
Blackhawks draft picks to play in Rockford by position:

Center:
18
Wings:
15
Defense:
16
Goalie:
6
Check out IceHogs.com all week as we preview the 2013 NHL Entry Draft
Monday, June 23th: Draft Breakdown at 27th pick
Tuesday, June 24th: Mock Drafts
Wednesday, June 25th: Breakdown of the Blackhawks first overall picks over the past 20 years
Thursday, June 26th: How the draft has impacted Rockford
Friday, June 27th: Update on the progress of Chicago's draft picks from the 2012 and 2013 drafts

Season Tickets for 2014-15 Now on Sale: Reserve your seats today for the IceHogs 16th season of professional hockey and eighth as the AHL affiliate of the Chicago Blackhawks. Call (815) 847-6399 or visit icehogs.com to find a ticket package that fits your needs.