2013-14 TEAM AWARDS PRESENTED AT REGULAR SEASON FINALE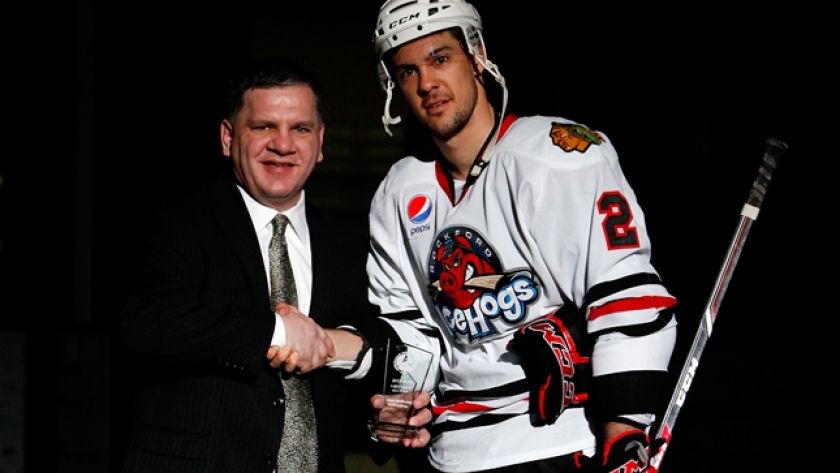 Rockford, Ill. – Before Saturday's 2013-14 regular season finale for the Rockford IceHogs, the club presented its team awards for their 15th season.

A total of eight awards were announced, with each player receiving their award from Chicago Blackhawks General Manager of Minor League Affiliations Mark Bernard, along with an IceHogs season ticket holder, prior to the game against the Charlotte Checkers.

Most Valuable Player honors went to forward Jeremy Morin. The Auburn, N.Y., native led the IceHogs with 24 goals on the campaign and ranked second on the team with 47 points despite playing in just 47 games. With his 24 tallies in 2013-14, the fourth year pro became Rockford's all-time leading goal scorer with 81 in 205 career games for the IceHogs.

Adam Clendening and Klas Dahlbeck were named co-Best Defenseman. Clendening picked up the team's leading scorer honors as he paced the IceHogs this season and ranked second among all AHL defensemen, racking up 12 goals and 47 assists from the blueline. The Niagara Falls, N.Y., native was also named a First Team AHL All-Star last week. Dahlbeck posted career highs in goals (10), assists (25), and a team-best plus/minus rating (+20) to share the award.

Taking home the Rookie of the Year award was Garret Ross. The 21-year-old notched 15 goals and 18 assists during his first professional campaign. He also led all Rockford rookies with a plus/minus rating of +11.

Since joining the IceHogs in December following a trade, Brandon Mashinter has provided a physical presence in the lineup and he was the recipient of the Heavy Hitter award. Mashinter totaled 34 points (14g-20a) and 94 penalty minutes.

Veteran Wade Brookbank garnered the team's Unsung Hero award. With 16 years of professional experience, Brookbank provided valuable leadership for a young IceHogs squad both on and off the ice. The 36-year-old wore an "A" as the team's alternate captain in 22 contests this season.

Forward Terry Broadhurst was named the Most Improved player in 2013-14. In his second pro campaign, Broadhurst spent the entire season in Rockford after splitting time between the Forest City and Toledo during his rookie year. The Orland Park, Illinois, native was fourth on the team in scoring with 40 points (15g-25a) in 71 games this season, tripling his output for goals, assists and points from a season ago.

Recognized by the AHL last week, forward Pat Mullane was saluted as Rockford's Man of the Year as well on Saturday. Mullane led the charge for the IceHogs in their community involvement all season long, making numerous trips to local schools, libraries and hospitals.