16TH ANNUAL JERSEY AUCTION RAISES NEARLY $80,000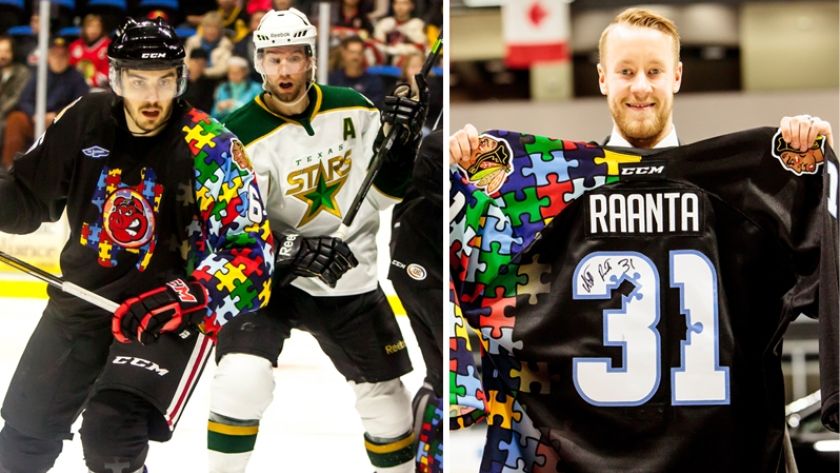 Rockford, Ill. - The American Hockey League's Rockford IceHogs hosted their 16th Annual Jersey Auction Sunday afternoon at the conclusion of their game with the Texas Stars and this year's auction raised a franchise record amount.

The IceHogs skated to a 4-3 win over the Stars, and throughout the afternoon collected $79,921 for local initiatives. The funds were raised via a live post-game jersey auction on the BMO Harris Bank Center ice surface, an in-game jersey raffle and a blind silent auction on the concourse. After 16 years of the event, the IceHogs organization has raised $809,231 for Rockford-area charities.

For this year's auction, the IceHogs teamed up with The Autism Program, the largest statewide provider of autism services in the United States. Aside from The Autism Program, a portion of the proceeds will go to the IceHogs Charitable Foundation which will donate to a number of local non-profit organizations. Beneficiaries of the IceHogs Charitable Foundation include the Boy Scouts and Girl Scouts of America, Big Brothers and Big Sisters of Rockford and the Jr. IceHogs.

The following are the auctioned jerseys along with the amount each sold for. The jerseys are listed in the order in which they were up for auction.
| | |
| --- | --- |
| Player | $ Amount Raised |
| #8- Viktor Svedberg | $1,400 |
| #14-Drew LeBlanc | $1,700 |
| #15-Kyle Cumiskey | $1,800 |
| #16-Cody Bass | $2,300 |
| #53- Brandon Mashinter | $2,500 |
| #25- Alex Broadhurst | $2,400 |
| #11- Peter Regin | $3,500 |
| #29- Ville Pokka | $3,000 |
| #49- Michael Leighton | $5,400 |
| #3- Zach Miskovic | $2,400 |
| #19- Dane Walters | $1,900 |
| #13- Spencer Abbott | $2,000 |
| #26- Garret Ross | $2,800 |
| #4- Stephen Johns | $2,200 |
| #12- Dennis Rasmussen | $2,200 |
| #6- Trevor van Riemsdyk | $3,600 |
| #9- Dillon Fournier | $2,300 |
| #24- Ryan Hartman | $6,100 |
| #18- Phillip Danault | $2,500 |
| #5- Keith Seabrook | $3,200 |
| #28- Mark McNeill | $2,200 |
| #27- Matt Carey | $2,300 |
| #22- Pierre-Cedric Labrie | $4,000 |
| #31- Antti Raanta | $6,100 |
| Silent Auction/Jersey Raffle | $10,121 |
| Total | $79,921 |