12 DEALS OF CHRISTMAS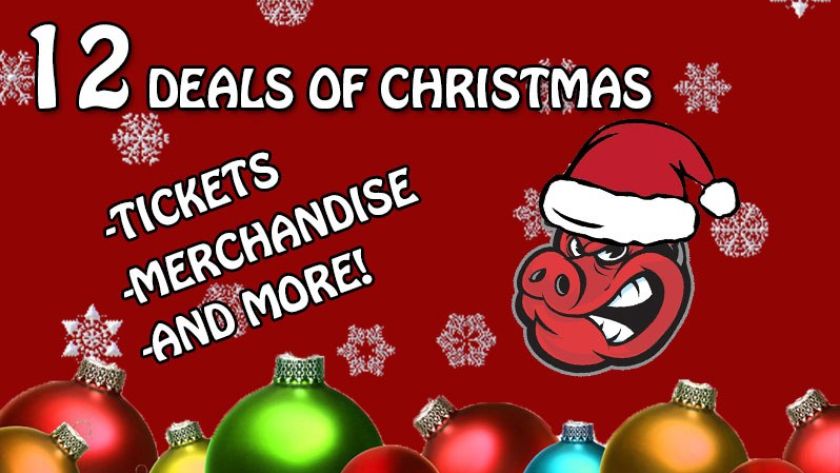 ROCKFORD, Ill. – The Rockford IceHogs are introducing a series of special deals and discounts for the holiday season through this year's new promotion, the "12 Deals of Christmas."
Beginning Monday, Nov. 27 the IceHogs will announce a special deal or discount at 10 a.m. each weekday until Tuesday, Dec. 12. These promotions will be revealed once per day over the next 12 weekdays to give fans a unique opportunity to take advantage of special discounts on IceHogs tickets, merchandise and food and beverage options at the BMO Harris Bank Center. Once announced, offers are valid until 5 p.m. of the announced day, or while supplies last.
Fans are encouraged to visit icehogs.com each day to view the current available deal. The IceHogs will update the webpage each weekday at 10 a.m. with a new promotion, and will also announce each Deal of Christmas on their social media platforms.
This event kicks off with a $10 combo package that includes an IceHogs hat and an Upper End Zone ticket for the Hogs' Illinois Lottery Cup game against the Chicago Wolves on Friday, Dec. 1 at 7 p.m. The offer is only available online at ticketmaster.com with the promotional code "MONDAY." This package can be redeemed beginning Monday, Nov. 27 at 10 a.m.
(Note:
Fans who purchase Monday's ticket package can pick up their IceHogs hat at the Fan Zone on the BMO Harris Bank Center concourse during Friday's game).
Tuesday's Deal of Christmas will be posted below and announced via social media at 10 a.m. on Nov. 28.
For additional information, call the IceHogs front office at (815) 986-6465.
| | | | |
| --- | --- | --- | --- |
| DAY (link) | PROMOTION | PRICE | INFO |
| Monday (11/27) | Hat + Upper End Zone Ticket | $10 | Promo Code: MONDAY |
| Tuesday (11/28) | Buy 2 Tix Voucher, Get 2 Tix Free | - | Redeem by calling (815) 986-6465 |
| Wednesday (11/29) | 1/2 Price Food Voucher at Barnyard BBQ | $4.50 | Redeem by calling (815) 986-6465 |
| Thursday (11/30) | Buy Hoodie Get Short-Sleeve T-shirt Free | - | Redeem in-person at Oink Outfitters |
| Friday (12/1) | Premier Cream Jersey + 2 Upper Sideline Tix | $80 | Redeem by calling (815) 986-6465 |
| Monday (12/4) | 4 Lower Sideline Vouchers | $75 | Redeem by calling (815) 986-6465 |
| Tuesday (12/5) | Buy Hoodie, Get Hat Free | - | Redeem in-person at Oink Outfitters |
| Wednesday (12/6) | 2 Lower End Zone Vouchers + Free IceHogs Hat | $30 | Redeem by calling (815) 986-6465 |
| Thursday (12/7) | Reebok & Select J America Hoodies | $50 | Redeem in-person at Oink Outfitters |
| Friday (12/8) | 1/2 Price Food Voucher at Oak Leaf Stand (12/12) | - | Redeem by calling (815) 986-6465 |
| Monday (12/11) | 4 Upper Side Vouchers + Mystery Gift Sack | $49 | Redeem by calling (815) 986-6465 |
| Tuesday (12/12) | $5 Upper Endzone Tix (12/12) | $5 | Redeem by calling (815) 986-6465 |