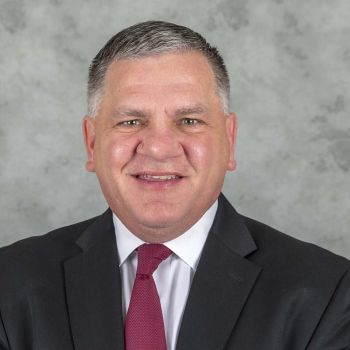 Mark Bernard
President, Hockey Operations & General Manager
Biography
Mark Bernard was named the Chicago Blackhawks Vice President, Hockey Operations/Team Affiliates on Aug.16, 2018 and enters his 15th season with the organization (2022-23). He came to the Blackhawks organization from the Norfolk Admirals where he served as the team's Vice President and Assistant General Manager during the 2006-07 and 2007-08 seasons. In '06-07 the Admirals were the AHL affiliates of the Blackhawks.

Under Bernard's guidance, the Admirals had significant increases in corporate sponsorships, advertising revenue and ticket sales, including six of the 10 largest single-game crowds in club history. Bernard also oversaw many fundraising efforts and founded the Admirals Hall of Fame.

For his efforts and accomplishments with the Admirals, Bernard was awarded with the James C. Hendy Memorial Award as the Outstanding Executive in the American Hockey League in 2007-08.

Prior to his appointment with the Admirals, Bernard was a goaltender for four seasons with the Hampton Roads Admirals (ECHL), accumulating a record of 62-38-12 with a 3.69 goals against average and a .882 save percentage. He was a member of the 1991 and 1992 teams that claimed back-to-back Riley Cup championships, appearing in all 14 post-season games en route to the ECHL Playoffs Most Valuable Player Award.

In 13 overall professional seasons, Bernard played in 441 games and has the distinction of being just one of three professional goalies (Ron Hextall and Martin Brodeur) to have scored two goals. Bernard also set a professional hockey record when he assisted on four goals on Jan. 30, 1997 while playing for the Bracknell Bees (BISL). Bernard's stick from that game is on display in the Hockey Hall of Fame in Toronto. In 13 seasons, Bernard was designated his team's MVP five times.

This isn't Bernard's first go-round with the IceHogs organization as he was the Head Coach for the IceHogs during the 2003-04 campaign. Following a brief stint in Rockford, Bernard took over as Head Coach and General Manager of the Basingstoke Bison in the British Elite League. In 2005-06 Bernard briefly resumed his playing career with the Bison and appeared in 32 games as goalie for the club.

In addition to coaching in Basingstoke, Bernard also ran the Bison's front office and was the General Manager of the team's ice arena. In two seasons at the helm of Basingstoke, Bernard helped double the team's season ticket base and increase corporate sponsorships by 60-percent. After two seasons in England, Bernard returned stateside and to Norfolk, this time in an administrative role.

He is a native of Hamilton, Ontario. Mark and his wife Julie reside in Rockford and have two children, Jackson and MacKenzie.